Hailey Baldwin Bieber dismisses pregnancy rumours and urges followers to respect her privacy. Due to pregnancy rumours, Justin Bieber and Hailey Baldwin have been making headlines. Hailey ignited pregnancy rumours after fans noticed a baby bulge during the Grammy Awards 2022.
On September 30, 2019, Justin Bieber and Hailey Baldwin Bieber married. While they had their registered wedding previously, it was only in 2019 that they exchanged wedding vows in front of friends and family. Since then, rumours of them having a child have been circulating on the internet. Fans are eagerly awaiting news on when the two want to start a family. Following her appearance at the Grammy Awards 2022, rumours of Hailey's pregnancy entered the press.  Hailey Bieber was dressed in a long satin tube gown. She stood with Justin Bieber, who was dressed in a grey suit with an oversized jacket and a white t-shirt. As admirers searched for a baby bump, it was quickly assumed that she was pregnant. In response to these claims, Hailey clarified that she is not expecting a child. "I'm not pregnant, so leave me alone," she wrote.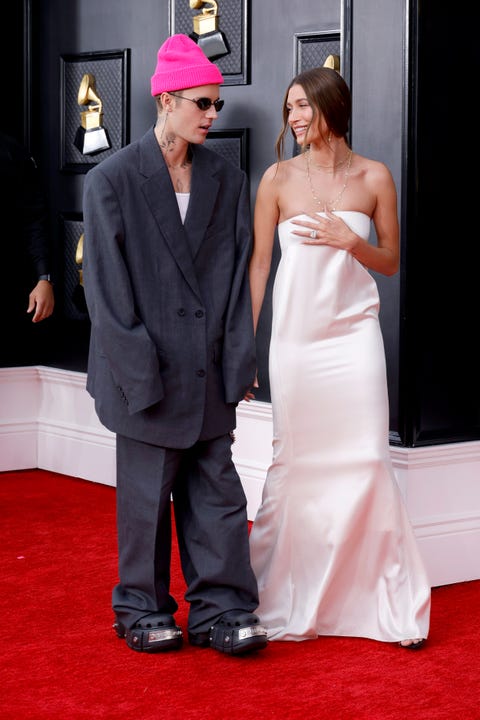 Hailey had previously spoken about her desire to become a mother. She had told the WSJ magazine that, "I think ideally in the next couple of years we would try. But there's a reason they call it try, right? You don't know how long that process is ever going to take. Definitely no kids this year; that would be a little bit hectic, I think." Justin Bieber has previously spoken publicly about his plans to start a family. When asked how many children he wanted on Ellen DeGeneres' show, he said it depended on his wife Hailey's physique. His response was well-received by the public. He had also intimated in one of the videos that by the end of 2021, he would be trying to have a child.