With sly jabs at the industry and a plethora of comedians doing voice work, the short-lived late 1980s animated sitcom receives a humorous yet serious revival.
It's not surprising that someone was prepared to mock Hollywood's increasingly aggressive remake, rebooting, and remixing of dust-caked IP, but it's perhaps even more surprising that the joke came from within the house. Not just any house, but the House of Mouse, possibly the worst offender of them all.
However, the never-ending sift of studios sifting through their back catalogues (this year promises new takes on Gremlins, Three Men and a Baby, Father of the Bride, Frasier, Scooby Doo, Night at the Museum, Hellraiser, Matilda, and many, many others) has resulted in an unusual satire, made even more unusual given the unlikely packaging. At first appearance, a live-action-animation hybrid film based on the late 1980s cartoon Chip 'n Dale: Rescue Rangers, which was released on Disney+, appeared to be more of the same. A shockingly crisp and precise humour is hidden beneath the Trojan horse of a lazily inevitable kids adventure.
The original series, which aired on the Disney Channel for three seasons, was based on one of those bizarre fever-dream scenarios that youngsters accepted without doubt. With two mice – one Australian, cheese-obsessed, and one blond, the focus of several crushes – and a housefly, two semi-clothed chipmunks ran a detective business. The characters in the film were all merely actors who lived and worked in a civilization where humans and cartoons coexisted. Chip (John Mulaney) and Dale (Andy Samberg) were childhood best friends who fell out after Hollywood greed and ambition pushed them apart, and now they live very different, yet very lonely lives.
When Monterey Jack, an old coworker, goes missing, the two are reunited and uncover a terrifying plan in which well-known animated characters are kidnapped, repainted, and bootlegged to be sold overseas and pushed into dreadful off-brand movies (The Little Mermaid becomes The Small Fish Lady, Beauty and the Beast becomes Beauty and the Cursed Dog Man etc).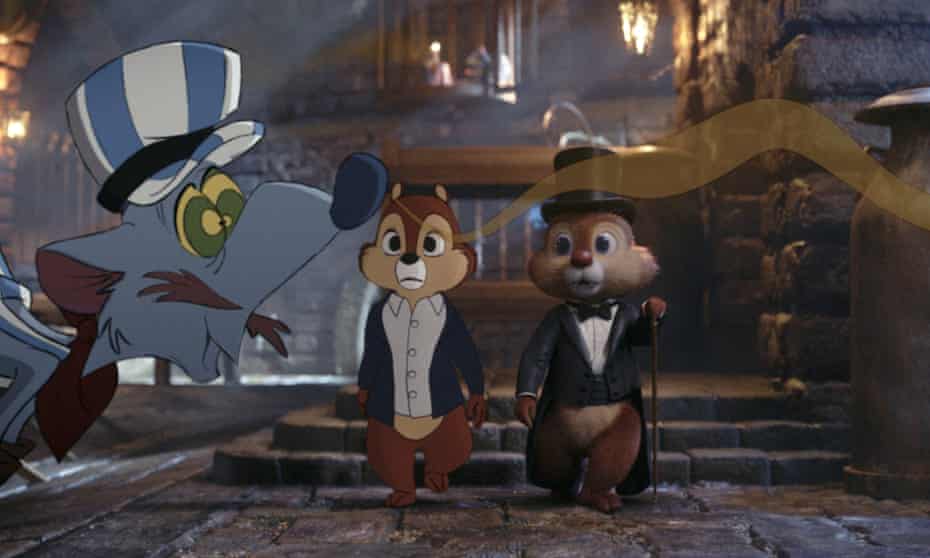 What's most surprising about a mostly surprising film is how intricate the world-building is, with Lonely Island director Akiva Schaffer and Crazy Ex-Girlfriend writers Dan Gregor and Doug Mand devoting far more thought and effort to the specifics of one scene than most mainstream filmmakers would devote to their entire film. It's crammed to the gills with pop culture references, sight gags, and sly digs at the business, but it comes short of the brain-dead saturation that's sunk some of its peers. The one-two gut-punch of Free Guy and Space Jam 2 last year showed two studios throwing everything they had into a blender, both overly filled with often strange references to other films and shows also available on Disney and Warner's respective streaming services.
There's also a lot of fun to be had at the expense of animated progress, with Dale getting surgery to make him look more CGI, an amusing trip to the "uncanny valley" where the two meet ghoulish motion capture characters from the 2000s, and a scene-stealing cameo from Ugly Sonic, AKA the grotesque, fan-loathed version of the character from the recent film's original trailer.