Because the moon god Khonshu has been imprisoned by his other gods, his human avatar Marc Spector (Oscar Isaac) is forced to fight cult leader Arthur Harrow (Ethan Hawke) without his Moon Knight abilities.The fourth episode of 'Moon Knight' was posted on Hotstar yesterday, after the first three episodes gained a lot of attention from viewers (April 20). The storyline looks to become progressively confused as the first season unfolds and the last episode of the first season approaches.
Because the moon god Khonshu has been imprisoned by his other gods, his human avatar Marc Spector (Oscar Isaac) is forced to fight cult leader Arthur Harrow (Ethan Hawke) without his Moon Knight abilities. The first thirty minutes of the fourth episode are mostly devoted to Marc Specter and Layla's search for Ammit's tomb, before a major surprise arrives when Arthur Harrow cold-bloodedly shoots Marc Specter, followed by ten minutes that call into question the entire plot established in the previous three episodes.The episode opens with an inverted shot of the imprisoned gods in figurines, before moving on to Steven Grant (Marc Specter's other personality) and Layla, who are searching for Ammit's tomb and now have the coordinates thanks to Khonshu, who assisted them in episode 3 by changing the night sky and providing the coordinates.
The views and actions as Layla and Steven make their way to the tomb are evocative of well-known films such as 'Tomb Raider' and 'The Mummy.' There were also gore sequences in Episode 4 that were horrifying enough to make one feel uneasy. As the chapter progresses, Layla nearly defeats a monster before meeting Arthur Harrow, who confesses that Marc Specter murdered Layla's father as a mercenary. Episode 4 is particularly strong in terms of Layla's character development, as she is able to defeat a monster on her own and learns a great deal about her past and father.
Meanwhile, Steven discovers that Alexander the Great was Ammit's final avatar, and that he was buried in pharaonic fashion, with Ammit's ushabti—the statue that keeps her locked away—embedded in his throat. Steven successfully places his hand inside the mummy's mouth and retrieves the Ammit figurine after some unpleasantness. After regaining possession of the corpse from Steven, Layla begins questioning Marc about her father, and Marc tries to explain to her that he was present when his partner murdered Layla's father, and that he was also destined to die that day. While Layla and Marc are arguing, Arthur Harrow enters Ammit's tomb, and Marc tries to attack him, killing two of his guards, but is shot by Harrow.
Marc Specter/Steven Grant is shown falling into some kind of pit after being shot twice in the chest, and then viewers are treated to scenes from the super cheesy parody film 'Tomb Buster,' which is playing in a mental institution where Marc Specter is a patient, and other characters from the series are shown in the mental institution where Marc Specter is seated in a wheelchair with an action figure of Moon Knight in his hand. Marc also encounters Layla there, who is overjoyed after winning a bingo game and says things that Marc was just saying to her seconds before being shot.Several features in the mental hospital match Marc's life and were seen previously in the show. Then Marc meets the mental hospital's psychiatrist, Arthur Harrow, and after uncovering portions of his life that are strikingly similar to his own, Marc seeks to flee the region where he is being confined.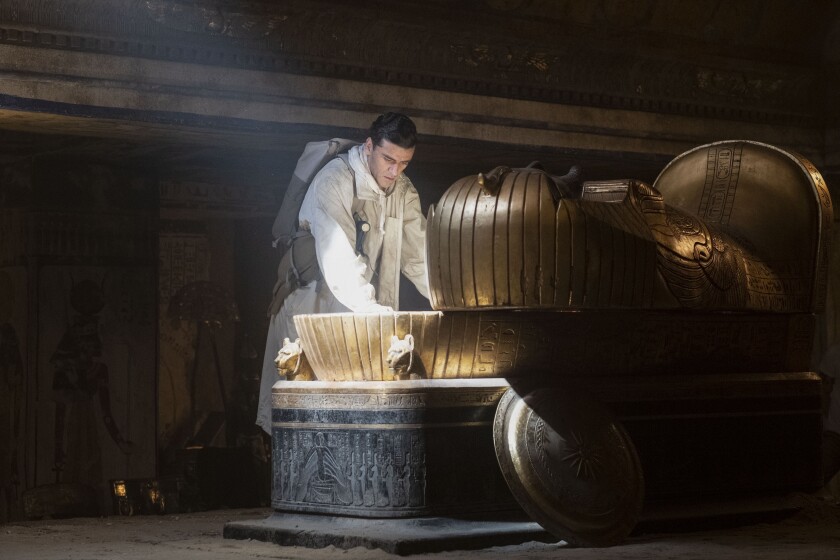 The mind-bending episode concludes with Marc Specter meeting his other personality, Steven Grant, in another body that looks exactly like him, and the two attempting to leave the mental facility, but they are accosted by an anthropomorphic hippo dressed in an ancient Egyptian ritual costume before they can do so. "Hello!" she exclaims softly, causing Marc and Steven to scream. Taweret (Antonia Salib) is a goddess of childbirth and fertility who protects mothers and infants in ancient Egypt. Taweret is a rare MCU original, as she isn't based on a comic book character like some of the other gods in this show.It appears like Marvel Studios has adapted the storyline from two of Moon Knight's comics and then made it into one, but it will be quite interesting to see how the remaining two episodes and the story progress.