Last night, Kylie Jenner and Travis Scott had a gorgeous family night out with Stormi Webster.
The couple walked the red carpet at the Billboard Music Awards in Las Vegas with their four-year-old daughter.Jenner donned a Balmain abstract nude dress in cool grey and blue tones, while Scott wore a grey suit with white and green Nike sneakers and performed at the event. In her gorgeous one-shoulder white dress and matching sneakers, Stormi joined them on the carpet for photos. She smiled for the cameras while nervously holding her mother's hand and hiding between both parents.
Jenner and Scott's three-month-old boy, whose name has yet to be revealed, did not attend.Since the 72nd annual Parsons Benefit on June 15, 2021, the parents of two had not visited a red carpet together. Jenner attended the Met Gala earlier this month (in two separate Off-White wedding gowns), but Scott was not present.
Scott will perform at the Billboard Music Awards for the first time since the Astroworld Festival catastrophe in November 2021, when a crowd surge during his Houston event killed ten people and injured hundreds more. Scott expressed his sorrow for the fatalities right away and is still dealing with the fallout (and the lawsuits) from the occurrence. Since then, he's been mostly out of the spotlight, but the rapper appeared to be in good spirits with his family at Sunday's event. As he played his songs "Mafia" and "Lost Forever," Jenner and Stormi cheered him on.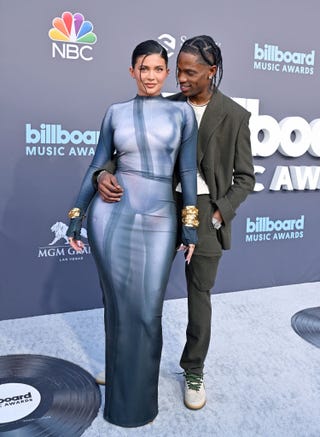 Kylie Jenner and Travis Scott brought their baby, Stormi Webster, to the 2022 Billboard Music Awards on Sunday, making it a family affair.The couple rarely attends red carpet events together, let alone with Stormi, after welcoming their second child in February. According to The Independent, the last time they did so was at the 72nd Annual Parsons Benefit about a year ago.
Jenner and Scott, who began dating in 2017, made their first red-carpet appearance as a family in 2019 at the opening of his autobiographical documentary, "Travis Scott: Look Mom I Can Fly," in California.Jenner wore a figure-hugging long-sleeved Balmain dress from the luxury brand's fall/winter 2022 collection to the Billboard Music Awards, which were held at the MGM Grand Garden Arena in Las Vegas. The garment looks to have a subtle optical illusion of a nude figure, which gives it a daring feel. According to PopSugar, she completed the look with gold cuffs and matching Balmain heels.
Stormi, four, was dressed in a white one-sleeve dress with pink accents and high-top sneakers. Scott, 31, also wore sneakers, with a green swoosh, outsole, and laces, as well as some yellow accents. He wore a grey suit and a white shirt to match.
Scott's performance at the Billboard Music Awards was his first since the disastrous Astroworld music festival in November, during which ten people were killed and hundreds more were injured after the crowd swelled, according to Insider.According to Insider's Zac Ntim, the rapper only just returned to public performance on May 7, six months after the incident, at a nightclub in Miami, Florida.